Painting Therapy in Pregnancy and Preparation for Childbirth
Dear Mother-to-be, dear Parents!
You are full of hope. You are expecting a baby. You are saying yes to life.
You have thought about what you can prepare, where you want to welcome your baby and how your professional work can continue after the birth. You are expecting your baby – who has become so accustomed to your breathing, your voice, your everyday life and your gait – with confidence, peace and patience.
How can your bond be strengthened before birth so that your baby – like you – can look forward to the encounter? A loving relationship gives your baby the confidence to feel welcome in the world. How does it feel to be your baby? A picture may tell us more than many words.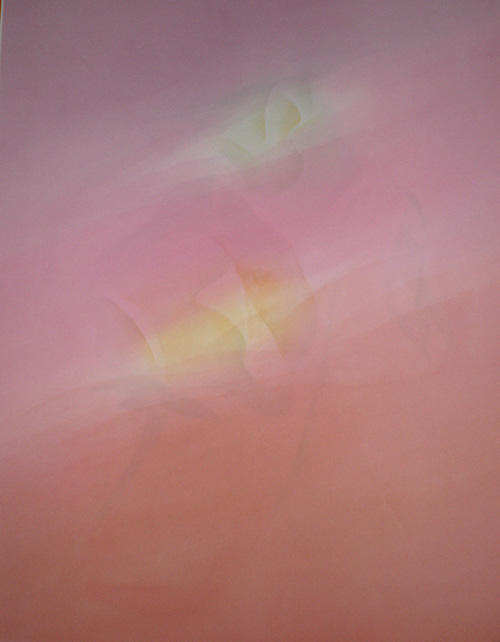 Fig. 1: Magenta "Being welcomed", © Bernadette Gollmer
Magenta is a color that can vividly represent the process of pregnancy – of being secure and then being born. The mother is experiencing the new life growing in her body, with devotion, love and trust directed towards this person. Nourished in the uterus, developing in warmth, swaying in fluidity with every step and every breath, the baby is growing and preparing for its earthly journey. The baby, on its way to beholding the light of day, is carried by a unique fundamental trust in its parents.
Preparation course: Invitation and birth stimulation
The midwives at Paracelsus Hospital Richterswil (Switzerland) offer a monthly weekend birth preparation course for expectant mothers and accompanying partners or relatives who are expecting a child for the first time. The midwives offer information, pointers and thoughts in connection with birth. New acquaintances can be made with couples who are in a similar phase of life.
On the second day of the course there is the possibility to paint a colorful welcoming greeting for the baby. With this use of color a bridge can be created between baby and mother, between baby and father, between baby and any other loving adult accompanying the birth. How does this baby feel in me, how is the pregnancy, what will this baby, who is coming towards us, be like? The young parents create a unique colorful world from colorfast watercolors. Which colors would you like to use to receive your baby? Deeply glowing red, bright yellow, enveloping, protective blue, reverential violet or delicate light green? Which colors, shapes and movements flow through the brush onto the sheet of paper when we paint with head, heart and hand? The painting process establishes a personal relationship with your baby. This momentary, individual statement makes the connection between you visible. These pictures can accompany and support young parents, who often feel great respect for the resulting visible portrayal of what is still outwardly invisible. The painting experience not only broadens one's view of the birth, it also awakens new thoughts and feelings towards the baby.
Give me the wonderful thing that's inside me,
the time that it needs to grow,
the love that will make it blossom,
the enthusiasm that makes it shine,
the imagination that keeps it alive,
and the magic that protects it.
(Source unknown)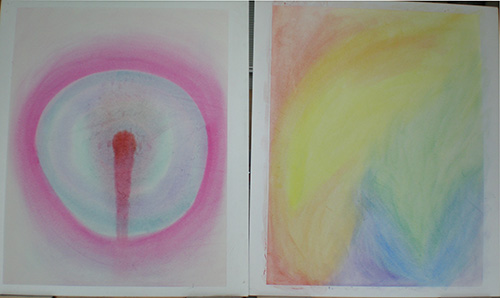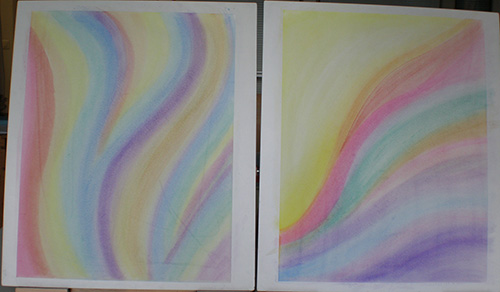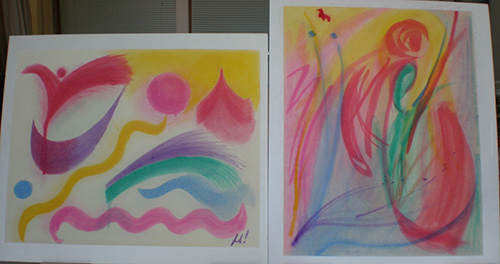 Fig. 2: Welcoming greeting by young parents, © Bernadette Gollmer
Now comes the time when the birth is more imminent or is perhaps being medically stimulated with the help of integrative medicine. Meetings with midwives or doctors provide security and confirm that the baby and the mother feel well. The measures of integrative medicine are also used to give space and time to the parents' spiritual connection to their baby. In addition to other treatments, the mother is invited – perhaps supported by the expectant father or an accompanying person – to paint a welcoming greeting for their baby, using specially stimulating colors in a painting therapy session. Just as a sunset touches us, a sunny day delights us, a loving gaze of our partner encourages us, our painting bears witness to our current feelings about the birth process: our pictures radiate confidence, joy, expectation, curiosity and new creation.
As a mother, you experience the amazing transformation in your body, the changes that determine your everyday life during pregnancy. Painting is an invitation to pause again and look back on the pregnancy, as well as to express your unique intimate time with this arriving baby. With the three colors vermilion red, yellow and indigo blue, we offer balancing qualities of movement and warmth, targeting and radiance, sheath formation and warmth.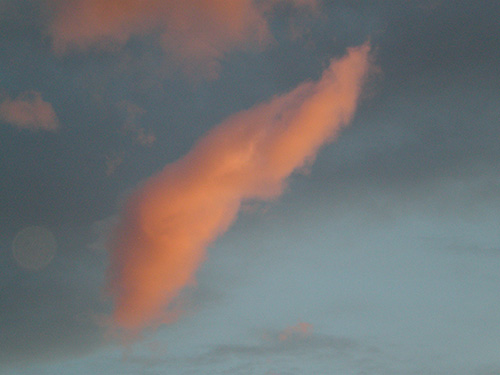 Fig. 3: Vermilion in the evening sky, © Bernadette Gollmer
After an initial, freely-painted picture, a guided exercise using the three colors mentioned can follow. The therapist guides you step by step through the painting exercise. Your free picture is the starting point and invites you to actively stimulate your baby's path – the birth process – on the painting paper with strong color impulses.
If you will be accompanied during the birth, this can also be an opportunity for your partner or other accompanying person to express their relationship to the baby in a non-verbal space. Painting becomes an intimate preparation for being at the birth. Such participation gives support and also forms a protective sheath for the expectant mother. The companion can choose from a wide range of colors, such as magenta, orange, green, turquoise, violet and mixed colors.
After painting the pictures, there is time for a heartfelt exchange about them and the thoughts and feelings experienced. The coming events are thus supplemented with a new, expanded view and are contemplated without time pressure.
Painting therapy in pregnancy
Painting therapy during pregnancy has a calming and balancing effect. Colors affect people. Colors can help to deepen feelings, to look at those same feelings in new or different ways. On a physical level, painting therapy has an activating and balancing effect on the body's life processes. Anthroposophic painting therapy works with the painting process and the effects of the colors.
Painting therapy can be very helpful for several pregnancy problems. For example, if the pregnancy is burdened by nausea for various reasons, painting with viridian green (emerald green) can help to counteract vomiting. Food can then be better absorbed day by day and is easier to regulate in early pregnancy. The luminous atmosphere of a fresh clear lake, a waterfall or an emerald jewel has an inner centering effect that helps the person find more inward uprightness.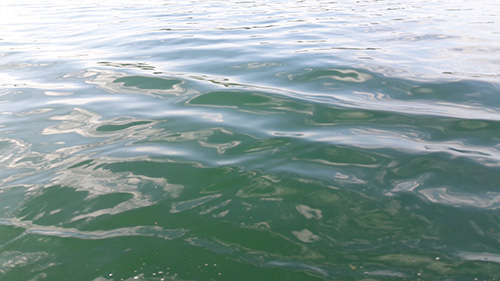 Fig. 4: Viridian green in nature, © Bernadette Gollmer
If premature labor occurs before the 36th week of pregnancy for any number of reasons, painting therapy offers the opportunity to restore calm. The expectant mother withdraws from everyday life for her child and paints him a picture of expansiveness with cobalt blue. In this blue space there is time to strengthen their relationship and to experience well-being with her child again. The vastness of a blue-vaulted sky, the protective cloak of Mary – as we know it from painted Madonna images – or a view across the sea relieve constriction and help the breath to flow again.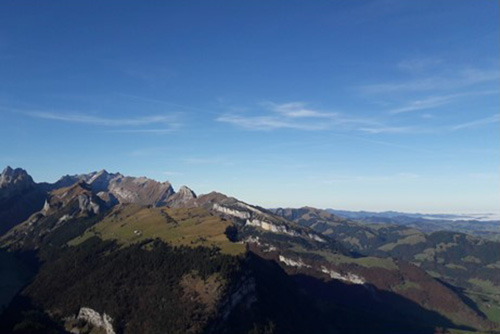 Fig. 5: Cobalt blue in nature, © Bernadette Gollmer
Under medical supervision and with treatments of extended integrative medicine, we can bring calmness and confidence into the birth process (3) via anthroposophic painting therapy (1), (2). Experience shows that mothers can be consistently helped during pregnancy (4), (5).
The "Light, darkness and color" method according to Liane Collot d'Herbois
The "light darkness and color" method of applied anthroposophic painting therapy is based on the threefold human nature of spirit, body and soul. Actively creating a painting expands the treatments of conventional or integrative medicine with measures of soul and spirit. Art therapy uses forces of transformation and autonomy to consciously experience, for instance, either rest or movement, balance or warmth. It strengthens the forces of renewal through a balance that must always be recreated anew – with the effects of art and the therapeutic relationship.
1 Collot d'Herbois L. Licht, Finsternis und Farbe in der Maltherapie. Dornach: Verlag am Goetheanum; 1993. English translation: Collot d'Herbois L. Light, darkness and colour in painting-therapy. Dornach: Philosophisch-Anthroposophischer Verlag; 1993.
2 Collot d'Herbois L. Colour. Stuttgart: SchneiderEditionen; 2016.
3 Kloter E, Wolf U. Anthroposophisch-medizinische Komplextherapie zur Geburtseinleitung. In: Jahresbericht des Instituts für Komplementärmedizin an der Universität Bern 2017.
4 Kloter E, Wolf U. Anthroposophische Komplextherapie bei Patientinnen mit Hyperemesis gravidarum in der Frühschwangerschaft. In: Jahresbericht des Instituts für Komplementärmedizin an der Universität Bern 2017.
5 Kloter E, Gerstenberg G, Berenyi T, Gollmer B, Flüger C, Klein U, Eberhard J, Kuck A, Wolf U. Treatment of hyperemesis gravidarum with anthroposophic complex therapy in 3 case reports. Complementary Therapies in Medicine 2019;44:14–17. [Crossref]